Wilkin's Building
Wilkin's Building
Help Restore The Past For Their Future
We are reaching out to our community, inviting you to join our restoration creation, bringing one of Midland's Federation style buildings back to life! The heritage listed Wilkin's Imperial Coffee Palace on Railway parade is in dire need of restoration and we can't do it without you. Get involved here!
HOW DID A YOUTH CHARITY BECOME THE OWNERS OF A HERITAGE BUILDING WE HEAR YOU ASK?
Youth Futures became the proud owners of the heritage listed Wilkin's Imperial Coffee Palace in 2018 when the previous owners, a school, went into administration. Setting out to save the school, the heritage building came as part of the package.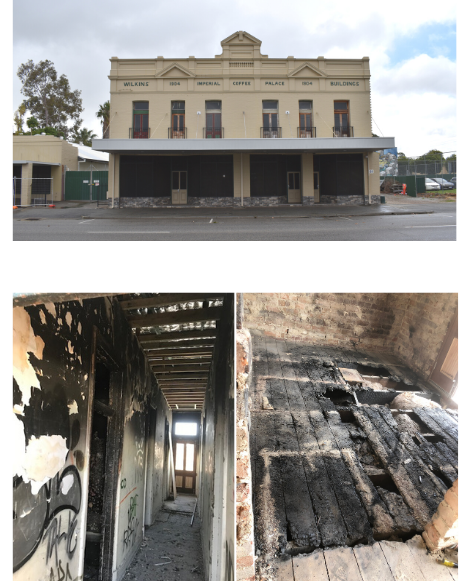 The school has been operating successfully ever since and now we are setting our sights on restoring the Wilkin's Building to its former glory. You see, the heritage-listed building has suffered through at least two fires, vandalism, neglect, and one very poor (read: dodgy) attempt at a restoration. The 1904 federation style building was built on the back of the railways workshops fortunes. Located opposite the Midland Junction Railway Station it provided refreshments and accommodation for travellers, locals and nearby workers.
A gentleman by the name of A.F Rechner first opened the doors of the Imperial Coffee Palace on Saturday July 23, 1904 on what was then, Margaret Road in Midland Junction. For Mr Rechner, the venture started as a sole proprietorship but by December 1904, he had entered a short-lived partnership with Joseph Holmes Woodland and Julius Lewis Glick. By October 1905 Rechner had put the Imperial Coffee Palace up for lease.
The lease was picked up by Patrick Michael Noonan which he held until his death 1940. During Patrick's lease the shop front housed many businesses with Patrick running a grocery shop. Impacts of the World Wars left the building needing extensive repairs which the remaining Noonan family members could not afford, leading to the building's sale.

WE NEED YOUR HELP
Youth Futures hopes to return the building to its former glory, complete with intricate lacework and cast-iron urns, to be enjoyed once again by the community. Not an easy feat for a not-for-profit! We need your help to restore this piece of history. We would love to hear from community members with a story about the building, individuals or companies with the capacity to support the restoration financially or by providing a service/product in-kind.
Supporters will have the opportunity to be publicly acknowledged and form a part of this iconic buildings next lease of life, click here to see how!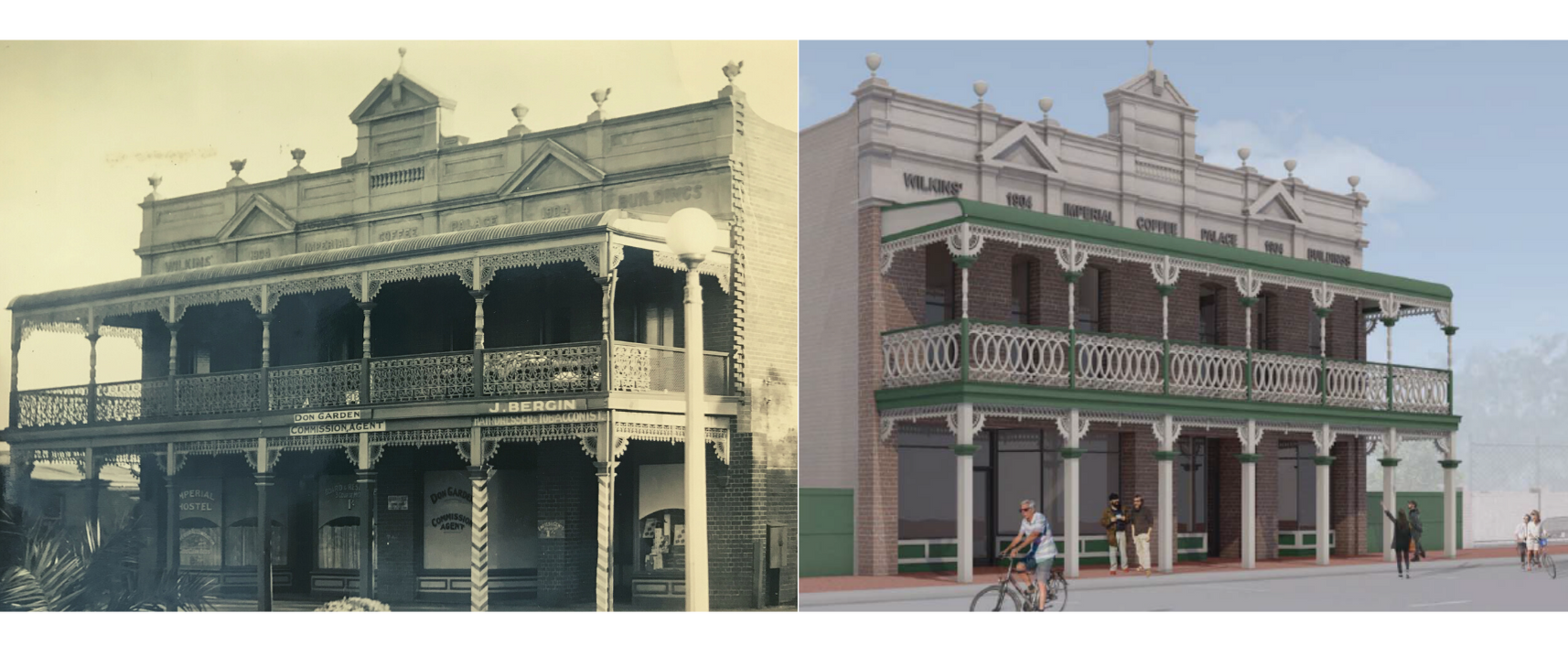 FAQ's
The Supporters Mural is a tribute to donors who have contributed $1,000 or more to the campaign, helping us to restore the Wilkin's Imperial Coffee Palace Building. Supporters' names and dedications to others are presented together on a long, painted mural, which is publicly displayed adjacent to the building. The mural will depict the street and area in its formative years.
Inscriptions will be in place for a period of no less than 5 years. Digital acknowledgements will be in place for a period of no less that 3 years.
We have enlisted Built Form Capital to carry out the restoration work. Now we just need the funds to make it happen! Build Form Capital is a multi-disciplinary company which has combined four traditionally related disciplines to deliver efficient, integrated, in-depth and successful built form and property outcomes.
Yes, all donations over $2 are tax deductible. If you donate online a receipt will be automatically sent to your nominated email address.
At Youth Futures we believe that all young people matter, regardless of the circumstances they find themselves in. For over thirty years we have been empowering young West Australians to take control of their future by offering them the holistic support and opportunities they need to thrive. Working to increase our capacity, this building will allow us to support even more young people in the future.
The Wilkin's Imperial Coffee Palace has never been comprehensively restored. With the redevelopment of Midland and relocation of the train station, it is fitting that the building be restored to its former glory.
The new Midland Station is expected to have 3,300 daily boarding's, growing to 3,700 in 2031. Through this campaign we will be able to respond to this change in Midland and transform the Wilkin's Imperial Coffee Palace Building securing it for future generations.
A restored Wilkin's Building will hold pride of place opposite the station welcoming people to the area with a sight of splendour, just as it would have done in days long past.