Our Impact
Our Impact
We believe all young people matter regardless of the circumstance they find themselves in.
Nearly 28,000 young people aged 12-24 are without a home on any given night in Australia. Young people experiencing homelessness have an increased rate of mental health challenges, self-injury and/or attempts on life, disengagement with education, unemployment, and poor health. This is why Youth Futures offers holistic support and opportunities for young people to thrive.
In WA over 20% of the homeless population are under 24
More than 50% are escaping violence in the home
Aboriginal young people are 11 times more likely than non-Aboriginal young people to experience homelessness.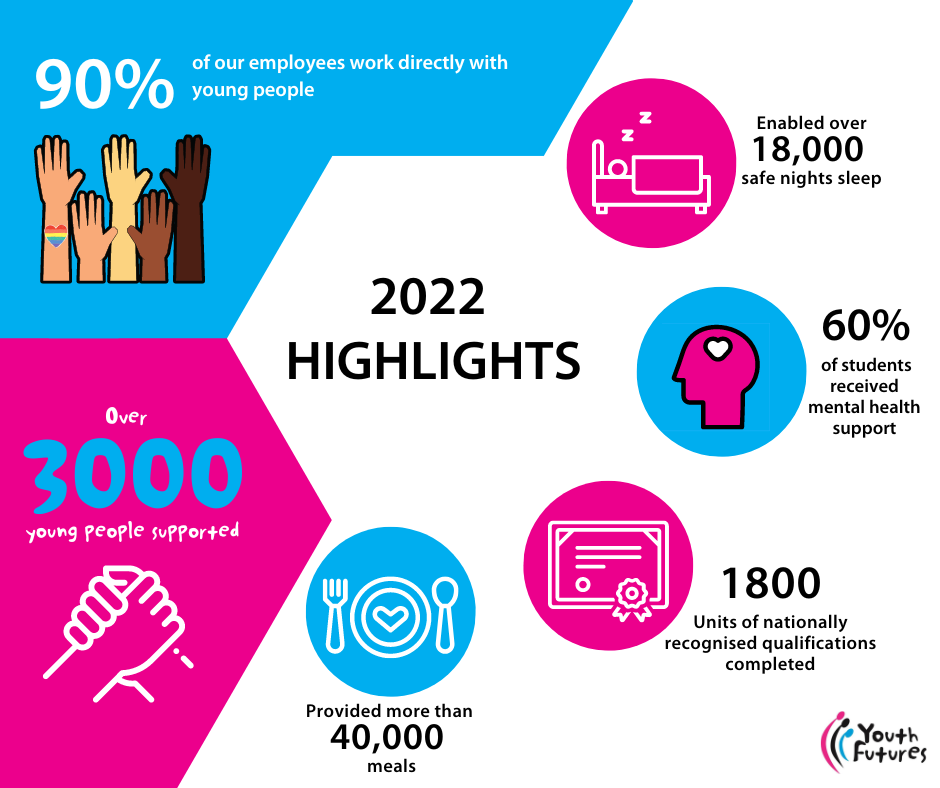 Youth Futures is committed to providing young people with professional services that increase community participation and enhance well-being. Each year our impact is far reaching and key highlights include:
Supporting over 3,000 young people with housing, education and/or support
Enabling over 18,000 nights of safe sleep
Providing over 40,000 meals
Distributing 500 emergency relief hampers
Delivering over 1200 Clinical Psychologist sessions to young people and their families
And, engaging over 300 young people across our education programs.
But, with many of our programs in high demand despite operating at capacity, there's still a lot of work to be done. We need your help so we can continue to make a difference, donate now!
For more information our latest annual report can be found here.